We The grove salons offers you the best Keratin treatment and Brazilian Blowout treatment, Yes, we live in Desert Climate and we live in an unnatural environment. We experience excessive heat, counterbalanced by excessive air-conditioning, we are constantly moving from hot to cold. Come summers, it adds pool days, sundresses, maybe an exciting tropical vacation, and, unfortunately, frizz. For those of us with wavy or curly hair, the heat and humidity of summer can make styling a nightmare. And taking a flat iron to your hair everyday is not only time consuming, but damages the follicles even further, causing brittle, breakable hair and split ends.
Do you need to control Frizz? Enter hair-smoothing treatments that not only make hair straighter, shinier, and easier to manage, but actually improve the overall health and quality of the hair. The two most popular ones you'll see in our salons are Keratin Treatments and the Brazilian Blowout. These treatments both bond protein to the outer layer of your hair, which strengthens, softens, and relaxes it. And the results last for months. These treatments are actually best year round and in particular the Brazilian blowout will actually improve the health of your hair caused by summer and winter damage!
Speak to your stylist if you want to go straight or simply tame your curls, the customizable smoothing treatment eliminates frizz and infuses shine by way of a bonding technology that actually improves the overall condition of your hair.
With the Original Brazilian Blowout, the results are immediate — there's none of the downtime that comes with keratin (like waiting three days to wash your hair). The treatment can cut blow-dry time in half and lasts up to 12 weeks, depending on your hair type and routine.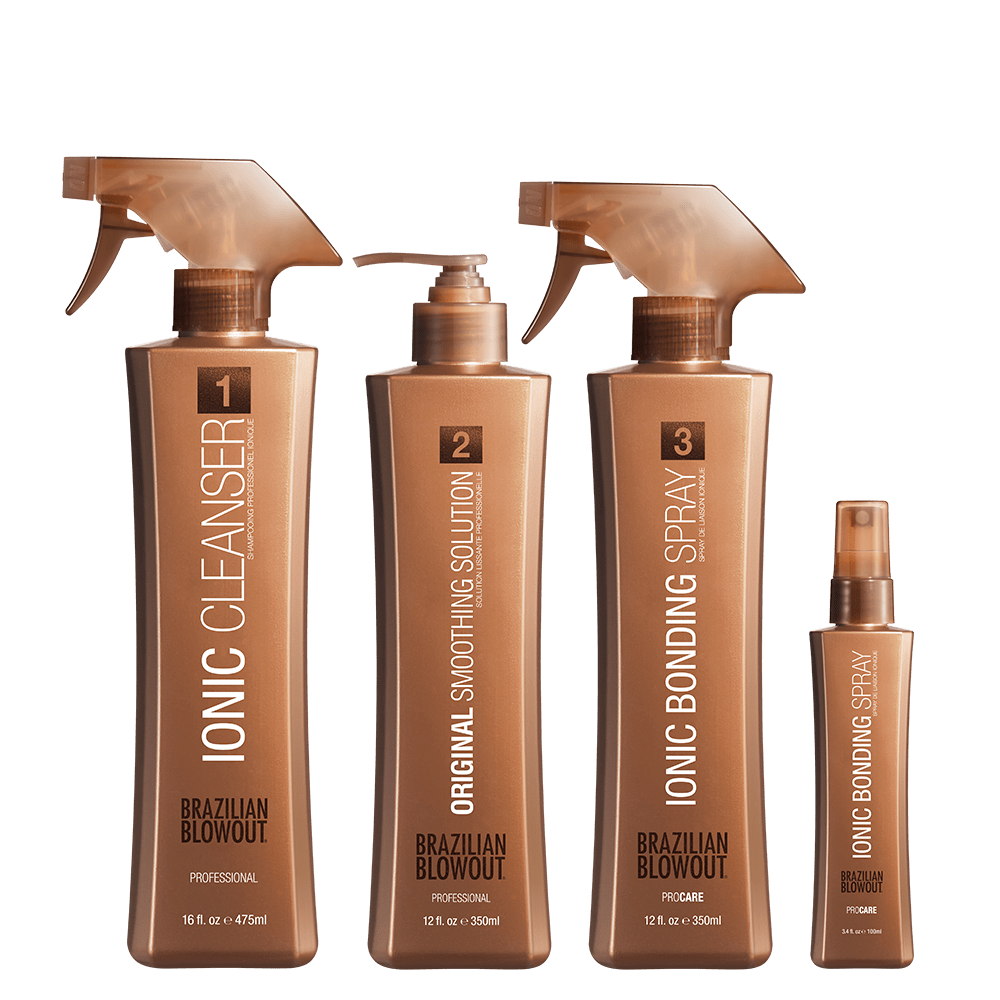 Brazilian Blowout Treatment Vs. Keratin Treatment
When comparing a Brazilian blowout Treatment vs. keratin Treatment, the difference comes down to the active ingredients. "The Brazilian blowout uses amino acids — which are much smaller molecules — allowing the treatment to be rinsed out the same day." "Keratin must crystallize over 72 hours.
–BBO is fast!
With a Brazilian blowout, you can wash and put up your hair whenever you'd like. The entire treatment is started and finished in the salon. So, hit the gym or try out that trendy new hairstyle without having to wait.
-Is it Colour Safe?
Both treatments are safe for color-treated hair and will leave it feeling healthy and shiny, but one of the major differences in the two treatments is the amount of formaldehyde used. "The Brazilian blowout has much higher formaldehyde, about 12%,"
So if you're allergic, sensitive to the ingredient, or just want to play it safe, it's best to opt for formaldahyde free alternative like our Crystal Formaldehyde Free Keratin treatment or treat with our deep conditioning and hair repair treatments.
Another notable difference between a keratin treatment and a Brazilian blowout is what a client might use them for. While both are smoothing and frizz- eliminating, Brazilian blowouts cannot fix damaged hair in the way that keratin treatments can.
"If your frizz is stemming from damage, then your treatment would need to be one that focuses on healing the cuticle of your hair, as opposed to someone who has healthy hair and wants to smooth or loosen curls."
Your stylist will be able to assess your needs and goals to choose the right treatment for you.
Who Is A Candidate For A Brazilian Blowout?
Brazilian blowout is great for all hair types and complements color-treated hair well for a post-color treatment because it's nurturing and seals the cuticle. "Anyone who wants smoother hair, or anyone who needs serious repair to their hair is a candidate for a Brazilian blowout.
You will need to wait two weeks after a treatment to do color, however, so the color can make its way into the cuticle.
Someone wanting volume, frizz control, or straightening might benefit from a Brazilian blowout. "Because it's a customizable treatment, you can use a flat iron to add volume at the root, giving bounce to limp hair, or use lower heat to maintain body and curl while eliminating frizz," says Brazilian Blowout's director of global education.
What to Expect at Your Appointment
For both Brazilian blowouts treatment and keratin treatment, the process is pretty similar. "Some people don't mind having a little more frizz if it means having more body left in the hair, in other words 80% less frizz equals to 80% less body, or 50% less frizz equals 50% less body."
At either type of appointment, you'll start off with a consultation to discuss your needs and expectations with the stylist so they can recommend the best treatment for you. We clarify your hair to remove any buildup. This helps the solution work better and faster, then lightly towel dry it, and get to work. For both treatments, the solution will be applied to the entire head, avoiding the scalp, then combed through from root to ends in small sections.
Unlike a keratin treatment, the Brazilian blowout has no processing time, so it will be blowdried into the hair with a round brush immediately instead of after five to 30 minutes. Then, your stylist will flat iron your hair to lock in the product. After the flat ironwork is done. Both keratin treatments and Brazilian blowout have to be rinsed out, but not shampooed. From there, your hair will need to be dried and styled again."
How long and how much?
The amount of time you have to sit in the salon chair and how much will depend on the hair we are working with. The thickness and the length of the hair determines the cost — it can take anywhere from an hour and a half for short hair and up to three hours with longer, thicker hair. The longer the service, the more expensive the cost.
Brazilian Blowout Care & Maintenance
Once you exit the salon with your shiny, sleek new 'do, how long does a Brazilian blowout last? "These treatments last about three months," our expert stylists say, given you take care of your hair properly and aren't swimming in salt water and washing your hair every single day. Need a ROI of the Dirhams spent. Use professional sulfate-free shampoo and conditioner.
While the treatments eventually wash out, our stylists point out that the hair shouldn't go back to exactly the level of frizz there was before since the treatments "heal the hair strands."
Book your Hair Smoothening treatment with us today, and get ready to wow everyone with your silky and smooth tresses.